platformOS Status Report — October 4, 2021
Diana Lakatos | October 4, 2021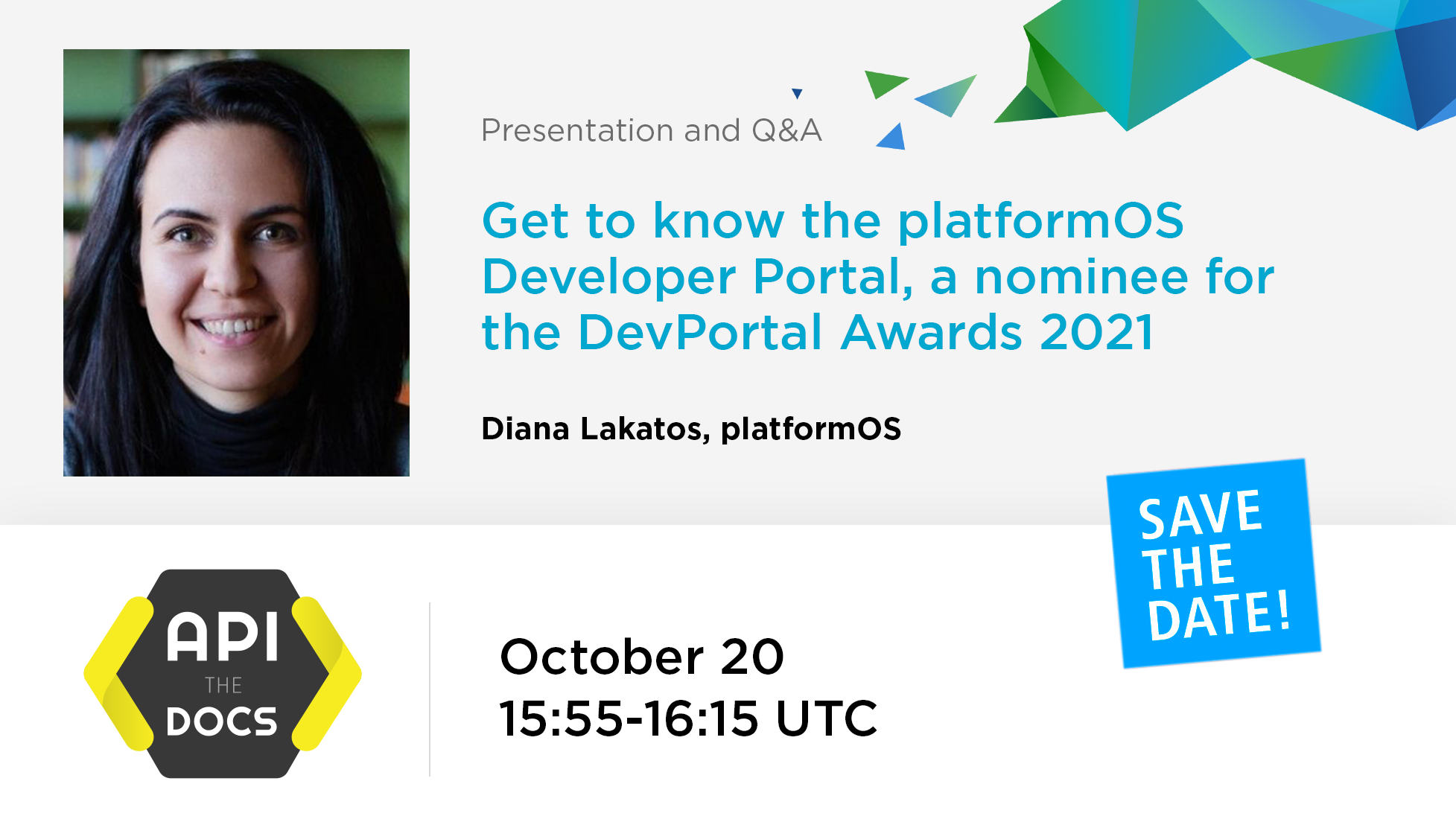 Save the date: API The Docs 2021
As the platformOS Documentation has been nominated in the "Best Developer Portal for Alternatives to REST-APIs", "Best Editorial Experience in a Devportal", "Best Accessible Devportal", and "Best Onboarding" categories for the Devportal Awards 2021, we have been invited to showcase our devportal and participate in a Q&A session at the API The Docs conference.
API The Docs is an event series dedicated to tech writers, product owners, developer advocates and other members of API teams who want to deep dive in API documentation and explore how it relates to a great developer experience.
Join us online!
Date: 20 October, 2021, 15:55-16:15 UTC
Find the full conference program here.
Article
We Are Switching From Testcafe to CodeceptJS — Here's Why

: Even though we have been happy with TestCafe, last year when we stumbled upon a new contender, CodeceptJS, we decided to give it a try. It delivered excellent developer performance, so we dived deeper and expanded our test suites to include some more test cases. Learn about our experiences and why we are now switching to CodeceptJS in this article.
Documentation
Content production
Development
To learn more about the most recent changes, improvements and fixes in platformOS, check out our latest release note: platformOS Release Note 4 October, 2021 — More new filters, fixes

NEW added new

deep_clone

filter

NEW added

type_of

filter

NEW added

remote_url

to allow to create property upload based on external URL

NEW added

jwks

support to the

jwt_decode

filter

NEW allowed to set content disposition and content type for

property_upload

FIXED fixed liquid executor (accessible pos-cli gui serve) to not crash when the

raise_liquid_error

flag is set to

true

FIXED fixed

hash_assign to work within for loop
---
Subscribe: get weekly reports in email