platformOS Status Report — May 31, 2021
Diana Lakatos | May 31, 2021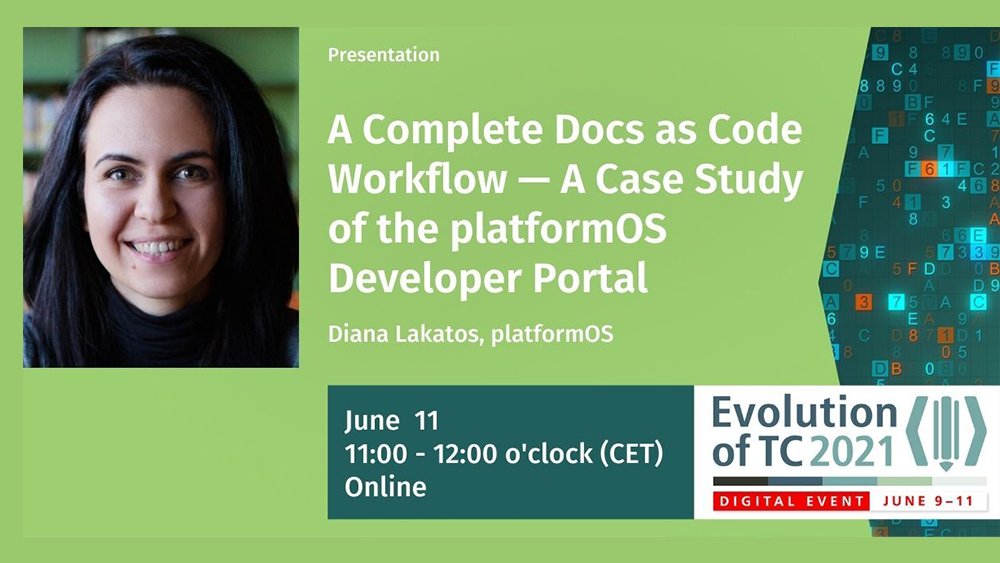 Coming up next week: Evolution of TC 2021
Join us at the Evolution of TC 2021 virtual conference for our talk A Complete Docs as Code Workflow — A Case Study of the platformOS Developer Portal. In this session, our Director of Documentation, Diana Lakatos shows you how we produce and manage content, use plain text formats, a style guide and templates, track issues, and review and edit contributions from a fully remote team and community for their UKTC Award winning developer portal — all through the real-life example of a complete docs as code workflow.


Date: June 11, 2021 (Sunday) 11:00 CET
Find the full conference program here.
Documentation
Content production
Improvements, fixes
IMPROVED Rewrote tests from TestCafe to CodeceptJS to see if this framework is easier to learn/work with and faster - results so far are promising, the syntax is much more intuitive and writing is a breeze

Development
To learn more about the most recent changes, improvements and fixes in platformOS, check out our latest release note: platformOS Release Note 31 May, 2021 — Added t_escape filter, property_object to PropertiesInterface
NEW added t_escape filter
NEW added possibility to remove X-Frame-Options header
NEW added property_object to PropertiesInterface in GraphQL
---
Subscribe: get weekly reports in email